BMC Twin Air Conical Air Filter, Connection 90mm, Length 300mm


BMC TwinAir Air Filter
BMC Air Filter is one of the worldwide leaders in the production of air filters in the automotive sector, both road and racing.

BMC air filters are also designed and produced to ensure a higher air flow than original filters, producing less than half the pressure drop when compared to paper filters. BMC air filters allow more air into the engine in comparison, while providing better protection.
This filter has a pre-oiled cotton filtering element, with both lateral and central airflow inlets. BMC filters can be used on any automobile or motorbike, also suitable for engines with air flow sensors. The filter is pre-oiled from factory so it is ready to use out of the box.

BMC Filters use a cotton filter material that encourages the passage of a large air flow but, through the combination of different layers with low-viscosity oil, it is able to stop all impurities from 7 micron on up (Synthetic filters usually stops particles 80-micron and up).
Currently, this concept is the best solution for both a more effective filtration and for higher performance.

The red rubber used to produce this filter is especially heat-and-shock resistant. The top of the air filter is manifactured in plastic.
All BMC filters are washable and regenerable. We offer BMC original cleaning and regeneration kit.

How to choose your filter:
1. Dimensions for this air filter is according to this drawing and the specifications table.
2. This filter has a rubber connection to fit a pipe or flange with same/similar outer diameter as the inner diameter of this filter.
3. Choose a filter with as high flow rate as possible while maintaining a correct installation*. Flow rates for this filter are presented in the diagram and specifications table.

* For most engines it is important to reduce restrictions on the air intake side to achieve best performance. Use an air filter with as high flow rate as possible but still make sure that the air filter draws as cold air as possible. The pipe and hose routing from the air filter to the engine is as important. Use as few tight bends as possible to reduce restrictions and to create a uniform air flow to your intake manifold or turbo inlet. We have a large selection of aluminum pipes and silicone hoses to accomplish this.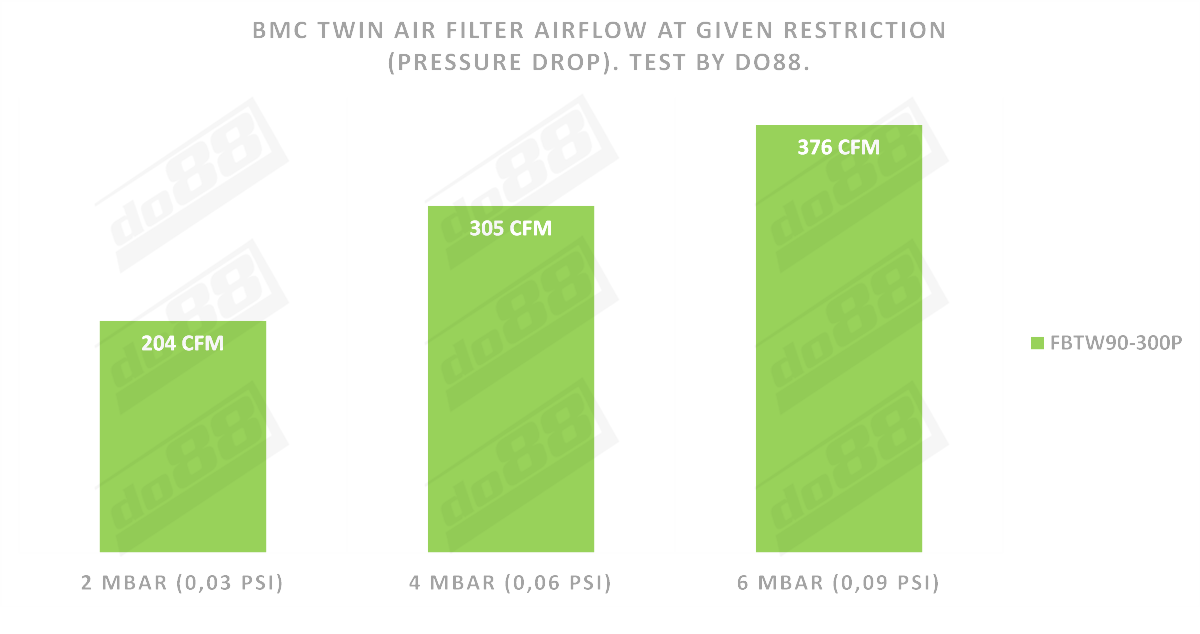 | | |
| --- | --- |
| A Ø: | 90 mm |
| B Ø: | 152 mm |
| C Ø: | 135 mm |
| D: | 341 mm |
| E: | 39 mm |
| CFM @ 6Mbar: | 376 CFM |