BMC DIA Direct Intake Airsystem, Plastic, Connection 85mm, Length 220mm


BMC Air Filter Box, DIA Direct Intake Airsystem

BMC Air Filter is one of the worldwide leaders in the production of air filters in the automotive sector, both road and racing.

BMC air filter boxes provide the best from several aspects: airflow, filtration, cold air supply and improved visuals. These patent pending air filter boxes is the right choice when do88 don´t have a model adapted solution, or when an open filter cannot be placed to ensure sufficient cold air supply. The unique system with a closed, sealed off box that shuts out surrounding heat and instead only consumes cold air from the supplied air snorkel, really helps in many cases and are considered market pioneering.

The air filter boxes have a pre-oiled cotton filtering element and can be used directly out of the carton. They are easily disassembled for cleaning if needed. BMC filters are also suitable for engines with air flow sensors.
BMC Filters use a cotton filter material that encourages the passage of a large air flow but, through the combination of different layers with low-viscosity oil, is able to stop all impurities from 7 micron on up (synthetic filters usually stops particles 80-micron and up). Currently, this concept is the best solution for both a more effective filtration and for higher performance.
All BMC filters are washable and regenerable. We offer BMC original cleaning and regeneration kit.

How to choose your filter:
The dimensions for this air filter are according to the drawing.
Choose a filter with as high flow rate as possible while maintaining a correct installation*. Flow rates for this filter are presented in the diagram and specifications table. Note! Bear in mind that these graphs show the airflow for the entire air filter box with the air snorkel mounted as a unit. Ergo, the graphs cannot be compared to the graphs for the open filters.

* For most engines it is important to reduce restrictions on the air intake side to achieve best performance. Use an air filter with as high flow rate as possible but still make sure that the air filter draws as cold air as possible. The pipe and hose routing from the air filter to the engine is as important. Use as few tight bends as possible to reduce restrictions and to create a uniform air flow to your intake manifold or turbo inlet. We have a large selection of aluminum pipes and silicone hoses to accomplish this. If the included snorkel isn´t long enough, or if you for some other reason need to complement the box, we have a vast selection of air duscting hoses.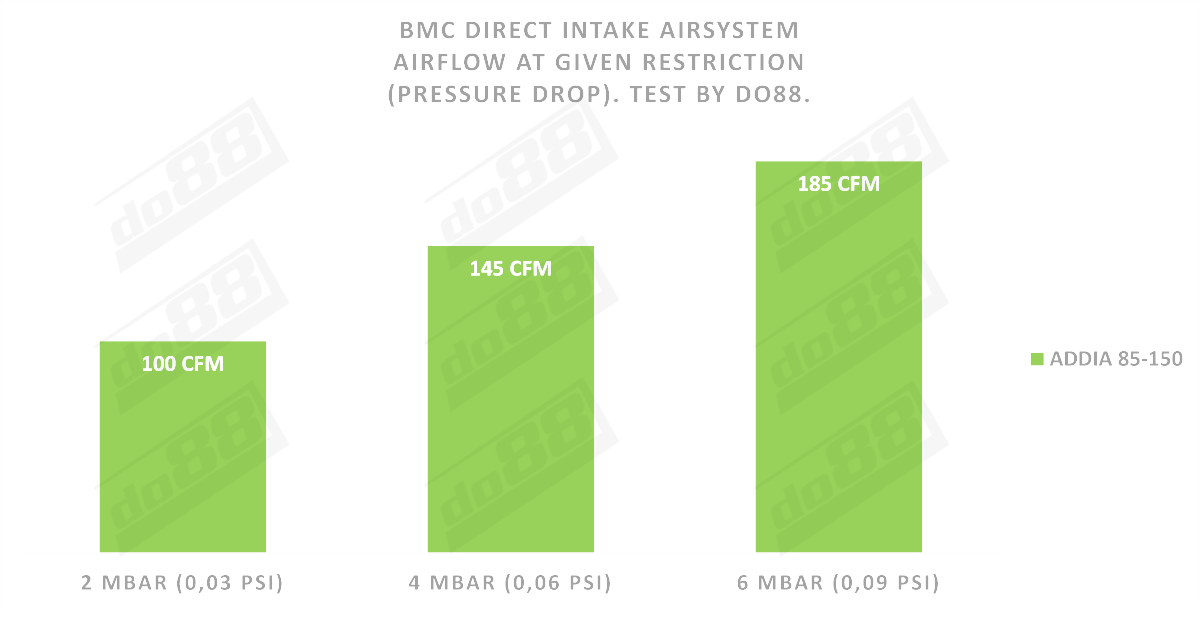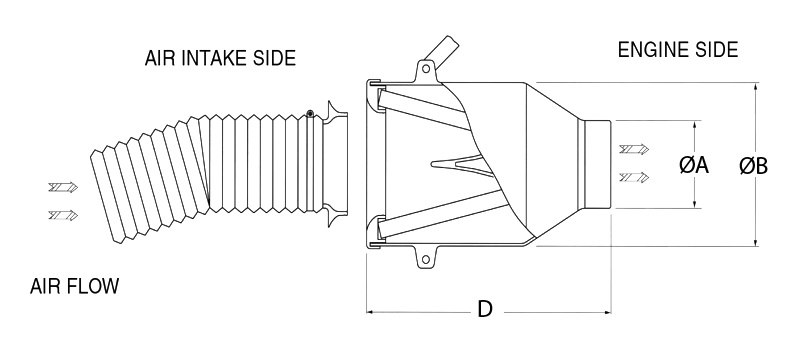 | | |
| --- | --- |
| A Ř: | 85 mm |
| B Ř: | 150 mm |
| D: | 220 mm |
| CFM @ 6Mbar: | 185 CFM |